South London has a lot to offer, and it is home to some of the most prominent landmarks in the country such as the London Eye. There is so much to see and do, that you will be spoiled for choice when trying to plan a day out. Whether you are single and ready to mingle or have just started a family, South London has something that will suit your current situation. We have created this guide to help you decide whether or not moving to South London is right for you, but also to see what the city has to offer. Take a look and see if South London is your next stop.
Preparing to Move
Moving to a new area requires energy and effort – researching new places, checking out facilities, wading through properties on RightMove and then actually going to view them – it's exhausting! And once you find a place you need to organise the removals, make sure you pack up all your possessions carefully so that nothing gets damaged and unpack again at the other end.
Before you get to that stage though you need to check out all the possible areas you might want to live. Knowing a bit about an area before you move there is essential for a contented life and an exciting adventure.
Where to Go in South London?
South London offers some amazing places to live, as well as some areas that are definitely best avoided. There isn't actually an S postcode in London, instead you have SE and SW. In this section, we take a look at each postcode area, showing you the best places to live according to your budget – as well as the ones you should really be careful about.
If you are looking at SE postcodes, here is all the information you need:
If money is no problem, a great place to look at is Blackheath. A beautiful and upmarket area, it's one to go for if you have no money concerns. If you have some cash to spare, but still need to keep an eye on it at times, Greenwich is the place for you. A classic location that is one of the most popular and well-known in the city, you'll find that life here is quite fine. If you are on a budget, but still want to experience a nice living location, Peckham, Abbey Wood, New Cross, or Kennington make excellent choices.
If you are looking at the SW postcodes, however, then here is a little information for you:
Wimbledon is one of the best, and most attractive, areas in south west London. Clapham is pretty good too, depending on the actual part you choose. If you're on a budget, you can still live in some lovely areas. The best places if you are a little strapped are Tooting, Streatham, Battersea, and Wandsworth.
Property Prices in South London
When it comes to the price of houses and flats in South London, you will find that there is quite a wide variation. The prices start as low as £150,000 and can go as high as £8.7 million, all depending on the area in which you decide to live. If you take a look at the section above, you can find the perfect locations to live in according to your budget.
Taking a look at property prices as a whole for the area of South London, however, we found that the current average is £660,000. If we take an even closer look at this figure, we also learned that the average price for a house and flat differ quite significantly in terms of average price, with the former currently set at £925,000 and the latter at £545,000. Of course, the prices vary depending on where you decide to live, and you can never rely on the London property market remaining unchanged for long. You are quite likely to find properties that are less, or even more, than the averages here. As a note, all of the averages here are correct as of September, 2017.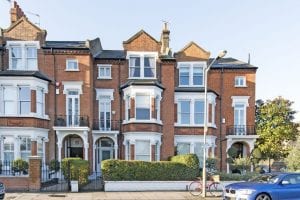 Here are some statistics for the number of bedrooms you can expect to find in South London homes, and the percentage of total homes that they make up:
40% 2 bed properties
22% 3 bed properties
19% 1 bed properties
11% 4 bed properties
5% 5 bed properties
3% Studios
1% 6 bed properties
0% 7 bed properties
0% 8 bed properties
0% 9 bed properties
0% 11 bed properties
0% 12 bed properties
As you can see, there are a large number of two bedroom properties. This is perfect for families, or friends who are looking for a flat to share while they save enough money to live on their own. No matter your plans or circumstances, South London has a property that is sure to be perfect for you.
Travelling in South London
As with the rest of the capital, South London does suffer from some serious traffic issues. For those that drive a car around the city and end up in traffic, there is a Congestion Charge that could almost certainly put you off using your own vehicle in this busy part of the city. As with most other areas in the capital, using public transport is often the fastest (and most environmentally friendly) way to travel.
Of course, buses travel on the roads and so they are bound to get stuck in traffic from time to time. For those that want to ensure that they are almost always on time, the underground network is probably your best bet. You'd be surprised how low the price is, and it's definitely the fastest way across the city.
In the South East of London, you can use the river bus as well – a nifty and relatively quick form of transport that can take you from one side of the city to the other. It's pretty fun to ride, and it also allows you to avoid all of that dreaded morning traffic. Definitely give it a go at least once!
Meeting People in South London
If you are moving to South London, you are sure to meet some like-minded people and build some strong friendships. Of course, many people work standard office jobs, and so you are likely to meet more people after work hours and on the weekends. Of course, you may still find some luck during the day, as there are those who are self-employed or who have shift work. Try to find some local hotspots and see if anyone interesting makes their way there.
Of course, we are here to help you move and to make it as smooth and easy an experience as possible. Moving to a new city can be terrifying as well as isolating, and that is not something we want you to experience So, here are some of the top ways you can meet new people, battle your fears, and make some new city friends:
The local pub or bar. Many people will be here after work for a drink alone or with others. Don't be shy, most won't mind you going up to say hello and introduce yourself.
Sports Clubs or Gyms – get fit and meet like-minded people
Work – many Londoners socialise with colleagues either in the centre of the city or in more local drinking spots and eateries.
Food Shopping
Living in London, as with many major cities, is more expensive than other parts of the UK. Fares, petrol even getting a simple repair job done on your new home can all cost more. Fortunately some things are the same price as any other area of the UK and that especially goes for groceries – if you buy at the major supermarkets.
Places to Work in South London
South London has a growing population of over one million people, and an incredibly active workforce. Parts of South East London are rapidly becoming some of the most popular places to live and work, especially with generally lower prices for homes – although still a long way from cheap. South West London, on the other hand, is home to some of the best shopping and leisure centres, with jobs in these areas being in quite high demand and property prices rivalling the most expensive parts of Central London.
Croydon is home to some of the biggest head offices in the country, and it is one of the top locations for businesses to plant their HQ. Everything is there, and it is the ideal place for those who want a stable office job with a big company. Plus, it is continuing to expand and increase in popularity – making it a good place to start looking for work.
Start-ups are all the rage at the moment, and we are seeing more self-employed people than ever in this country. It is a wonderful time to be innovative, and whether you want to start your own company or work for a start-up that you admire, South London is the perfect match for you. Now is the time to do something you love, and this is the location that will serve you best.
Retail is an area that always needs employees, and with some of the best shopping in the city, South London is ideal for those who want to work in this sector.
Places to Go in South London
Whether you are living in the SE or SW postcode, there are so many places that you can go, and loads of things that you are sure to enjoy. The South of London does tend to be one of the more expensive areas, but we promise that there are wonderful places to go for anyone on just about any budget. Here are some of our top recommendations for places to go in South London.
You simply have to try Frank's Café in Peckham during the summer months. Located at the top of a multi-storey car park, it offers a unique location as well as some spectacular views while you sit back and enjoy a spectacularly cool drink. Even if you don't end up moving to South London, you need to take the time to visit.
Southwark is famous for its entertainment, shopping, and stunning cathedral. If you want a fun day out, then this is where you need to be. It's a beautiful area and it has so much to offer, both in terms of luxurious shopping and delicious local places that you won't want to miss out on. It's an area that really gave the economy a boost, so go and pay thanks by treating yourself to a little fun.
Within easy reach of the main South London residential areas, King's Road and Knightsbridge are the most chic and glamorous shopping areas in the capital, not to mention the home of Harrods – everyone's favourite department store. Plus, Harvey Nichols is just a few doors down, giving you the high-end shopping experience that you deserve. Kensington High Street is another popular shopping area, especially when it comes to women's fashion – and these could all be just a short trip from your new home.
If you are looking to treat yourself or loved ones to a delicious dinner, there are only two places to go – Kensington and Chelsea – and again these are within easy reach of most of South London. These areas are home to restaurants owned by the likes of Gordon Ramsay, and while the prices are high, the quality is well worth the extra expense. However, if you are looking for a wider range of restaurants at a more reasonable price, Clapham has a great selection for you.
When it comes to general attractions and days out, South London has a lot to offer. Southbank is just one of these, which is home to the London Eye, the London Dungeons, and a whole host of other exciting events. You also have the Palace of Westminster and Parliament, as well as the Tate Britain and Battersea Power Station. Plus, you have the beautiful Hyde Park to relax in on sunny days.
Things for Families in South London
You will find the SE postcode is a little more family friendly than the SW one, but either way, South London has a lot to offer, and you are sure to love it all. There are loads of activities available for every member of the family, and we are sure you will find something that is perfect for you. Here are our top recommendations for family activities in South London.
The London Aquarium on Southbank is an amazing place to take children for an experience that is both fun and educational. The entry prices are relatively low, and there are plenty of special offers running throughout the year to keep the costs as low as possible for you. With a great range of sea life to discover, hours of fun are sure to be spent here.
There are also plenty of museums that you and your children can visit to learn more about the history of the city, England, and the world. Some of the museums in the area are the Imperial War Museum, the Greenwich Maritime Museum and the Horniman Museum. These offer a range of history and experiences that every child (and adult) can benefit from.
There are also a number of farms in the South of London that children can visit to learn about animals and how to look after them. For children in the city, it is rare to see farm animals, so this is often a great experience. If farms aren't your thing, however, you also have some great bowling alleys and entertainment centres, not to mention swimming pools (including several open-air Lidos) and jungle gyms.
To Conclude
Hopefully, you have found this guide to South London helpful, and it has given you a good insight when it comes to deciding whether or not you want to move to this part of London. With a lot of things to do, it is perfect for those with families, as well as those who find more enjoyment in the nightlife scenes. Regardless of your budget, there is an area here that will fit your needs, not to mention a range of stunning locations to visit on a day out. For other areas of the city, check out our guides on moving to North, East, and West London.
What did you think of this guide? Is there anything that you would have added? We love hearing from you, so feel free to leave a message in the comments below.