North London is an exciting place to live. With a bustling and busy community, you will never be short of entertainment in this part of England's capital. With some amazing places to live and exciting things to do, North London has a little something for both families and those who like to party through the night time hours. In this guide, we take a look at moving to North London – giving you all the information you need before you decide to take the next step.
Preparing to Move
Of course, preparing to move to a new area takes a lot of patience and effort if it is going to be done right. You need to sort out all of the legal work for your new and existing property so that everything can be exchanged both legally and efficiently. After that, you need to organise movers, try to locate boxes, and ensure that you pack your home up carefully so that nothing is forgotten – not to mention get rid of any of the old furniture or items you won't be bringing with you.
However, before you do any of that, you need to research where it is you are going to be living. You need to know all about the place you want to move to – from which areas are good, to those that are a little more dangerous, as well as the things that you can do for fun or to form new friendships. Research is the key to successful living, so that you know what you are getting before you even get there.
Preparing to move involves quite a few different steps, and it is important that you go through each of them carefully so that you can ensure everything is done properly. Do this, and you will be enjoying your next home (and newest adventure) in no time at all.
Where to Go in North London?
There are some great places to live in North London, and you will be pleased to know that very few areas are ones that you should be cautious about. If you are looking at N postcodes, here are some of the best areas, depending on your budget, as well as the ones to be careful about:
If money isn't a problem, one of the best places to live in the N postcode is Highgate. If you have money to spare, but still need to watch it a little, Crouch End is your best bet. For those who are on a budget, you might want to take a look at Finsbury Park instead. A lovely area, but with much lower prices.
There are some areas in the N postcode that you might want to be cautious about, as we mentioned before. They tend to be a little rougher and require some research if you are planning on moving to them. These areas are South Tottenham, Seven Sisters, and Edmonton.
NW postcodes also offer some great accommodation. If you are looking at this postcode area, here are some of the places you should consider living, as well as those for which you should exert some caution if you are looking at homes there.
If money isn't a problem, take a look at Hampstead and Primrose Hill – there are some beautiful properties there. If you have money to spare, but still need to keep an eye on it, look at Belsize Park, Tufnell Park, or Queen's Park. If you are on a budget, Kilburn, Kentish Town, and Willesden are lovely places that offer a lower price.
When it comes to areas in the NW postcode that you should be cautious of, these places are Camden Town, South Hampstead, and Somers Town. They tend to be a little rougher, so research carefully if you do decide to move there.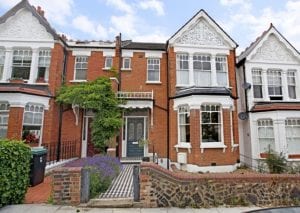 Property Prices in North London
The price of houses and flats in North London can vary massively. Prices can start as low as £175,000 and go as high as £15 million – it all depends on where you decide to live. In our Where to Go in North London section (above), we look in more detail at the best places to live in North London according to your budget.
When looking at property prices, however, the average property value for the area is currently £768,965 (correct as of September 2017). Looking more closely at property types, it is also clear that houses and flats have different average values. Flats are averaging at around £650,000 whereas houses are at an incredible £1 million. Of course, the price will vary depending on where in North London you live, and so you may find properties that are less (or possibly more) than the averages we have listed here. All averages are correct as of September 2017.
Here are some statistics for the number of bedrooms you can expect to find in North London homes, and the percentage of total homes that they make up:
40% 2 bed properties
21% 3 bed properties
20% 1 bed properties
10% 4 bed properties
4% 5 bed properties
2% Studios
1% 6 bed properties
0% 7 bed properties
0% 8 bed properties
0% 9 bed properties
0% 13 bed properties
As you can see, there are a large number of two bedroom properties. This is perfect for families, or friends who are looking for a flat to share while they save enough money to live on their own. No matter your plans or circumstances, North London has a property that is sure to be perfect for you.
Travelling in North London
North London does have quite a large population. As a result, you can expect to experience congestion on the roads – and the growing number of people living there will only make this worse. While public transport can be busy, this is definitely recommended as your primary form of transport. It is cheaper, often faster, and also helps you to avoid things like congestion charges.
Many road routes have designated bus lanes to prevent public transport from getting caught up in traffic. However, the fastest way to get around is by using the tube. North London boasts an excellent 27 underground stations – allowing you to get around much faster than if you were using the roads. Just remember that peak times can leave you feeling a little squished.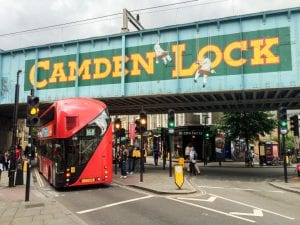 Meeting People in North London
If you are moving to North London and you are looking to meet new people, you are both in and out of luck. You see, during work hours you will find that the majority of residents are very conservative and unwilling to stop and chat. The work day is a busy one, and any time away from it is fleeting and to be savoured. So, if you are working night shifts, you might find yourself out of luck during the day.
However, evenings and weekend are a different story. You will find that during these times the city is bustling with people – and with so many around, you are sure to find at least one that you get along with. Moving to the big city can be a pretty scary move, and one that leaves you feeling quite alone.
To help you battle your fears, here are some of the top places you can go to try and make some new London friends:
The local pub or bar. Many people will be here after work for a drink alone or with others. Don't be shy, most won't mind you going up to say hello and introduce yourself.
Meetup websites. Meetup.com is the most popular one, and you can use it to find people in your local area who share your interests. It's one of the best and easiest ways.
You might actually find yourself socialising with your colleagues from your new job. This stuff takes time, so make sure you don't get too down if you have no work friends after your first week.
Dating websites. You never know where you will find love, but dating sites can be a good place to start. Try a few out, because you never know, you might meet a new friend or partner.
What About Groceries?
It is a well-known fact that the cost of living in London is more expensive than other parts of the UK (and in some cases, the world). However, are groceries really more expensive in London than they are across the rest of England? The answer is no. Of course, some supermarkets are more expensive than others, but you will often find the pricier places have the best quality food. Regardless, they are still priced the same as they would be outside of London.
Here are supermarkets on the budget end of the scale:
Here are the supermarkets that are considered to be in the centre of the scale:
Tesco
Sainsbury's
Morrison's
Here are the supermarkets that are seen as ones on the pricier end of the scale:
M&S
Waitrose
Ocado (online only)
Places to Work in North London
North London has a growing population of over one million people, and an active workforce of around 300,000. It is an important part of the city's economy, with the public sector being the largest contributor in this area.
This includes public administration, health, and education. In fact, around 40% of the workers in North London are employed by the public sector, so if this is where you are moving, you might want to consider work in this area. Additionally, Hackney and Camden Council are two of the largest employers, so take a look at these locations first.
Retail and restaurant/bar work are two of the next largest job areas in North London, accounting for 23% of the workforce in the area. There are quite a number of town centres in North London, each of which boasts an exciting and new range of shops, cafes, and other such locations. Major shopping areas include Edgware, Enfield Town, Walthamstow, and Wood Green. As for restaurants, bars, and similar premises, you are going to find them all over North London, as well as in the areas we just mentioned.
The creative sector is also one that is growing rapidly. Currently, there are 3,000 arts and creative businesses, and these employ around 12,000 people. You'll have a lot of luck finding work in this area in Muswell Hill, Waltham Forest, and Barnet.
Places to Go in North London
When it comes to things to do or places to go, it really can depend on whether you are living in an N or NW postcode. The former is great for families, but poor in terms of nightlife, whereas the latter is the complete opposite. In this section, we look at some of the best places North London has to offer in terms of food, drink, shopping, and a generally good time.
North London isn't home to trendy designer clothing stores, but it does have Camden Market. This is one of the most exciting shopping areas that London has to offer – as well as one of the most iconic. Lined with rows of unique stores and stalls, you will find things here that you simply can't anywhere else. Camden Passage itself is home to over 350 retailers, each of which sells something a little different. It's the perfect place to go for a quirky or unique gift.
If you are in search of a shopping bargain, then you are in luck when it comes to the north of London. Finsbury Park is one of the best places to go for bargain goods, but you are also likely to find this (as well as some interesting independent shops) on Blackstock Road, which runs between Islington and Hackney. There are a few hidden gems here that you won't regret finding.
For days out, you will find that there is a lot to see within easy reach of North London. Kensington is home to a wide range of museums, including the Natural History Museum, the Science Museum, and the Design Museum. It is also home to Earl's Court Exhibition Centre as well as some really special boutiques.
Hackney offers a wide range of Victorian warehouses that have been turned into galleries, showcasing some of the most spectacular designs that London (and further places) have to offer. Just about every part of North London is host to some of the finest cafes and restaurants, not to mention some pretty fabulous bars.
The nightlife in the NW postcode is excellent, and you will not be short of clubs to visit if you are looking for a night of fun and partying. In Camden, you will find that some of the clothing stores are also nightclubs – make sure to check out Cyberdog for an interesting combination of shopping and clubbing.
For those that are not into nightclubs, as well as those who are perhaps morning people, there are some wonderful parks and green spaces to take a stroll or run along at any time. Check out Alexandra Palace Park or Highgate Wood, for instance, but you will be hard-pressed to find a place that doesn't have at least one green location for a run, stroll, or even some yoga.
Things for Families in North London
If you are looking for family activities, the N postcode is a much better location than the NW one. While you are likely to find some family fun in both, there is a wider range to be found in the N area. Here are some of the top North London areas for families.
Islington is one of the best areas you are likely to find if you have some money to spare and want to live in a stunning family friendly location. There are some areas that are more affordable than others, but each of them is equally beautiful. The Angel Centre boasts some fabulous boutiques and coffee shops that you won't want to miss during a family stroll. A generally safe neighbourhood that is abundant in families, it is one of the most ideal areas to raise a family in North London.
Primrose Hill is also a lovely place to raise a family. With varying property prices, it does tend to be an area for those who have a lot of spare cash, but you might find a few hidden gems at a much more affordable one. Finsbury Park is a low-price alternative to Primrose Hill, and it is still just as safe and wonderful a place to raise a family. Plus, you have everything that North London has to offer relatively close to you.
North London is also home to the London Zoo, a perfect family day out. With a host of animals that are sure to fascinate and amaze your children, you will find that time flies by when you are hanging out here – plus, you'll all come away from it having learned something new. It's an interactive day out that is sure to create some fantastic memories for everyone.
Of course, you also have a wide range of stunning parks and play areas that you can take your children to for a fun family afternoon – not to mention a host of restaurants that are more than happy to have them.
To Conclude
Hopefully, this guide has been able to provide you with some insight into what North London has to offer if and when you decide to move there. With areas that are perfect for families and party animals alike, there is something to make everyone happy. It's a wonderful place to live that can also accommodate just about any budget that you have in mind. Just remember to always do your research and ensure that you are ready to move to somewhere as large and bustling as London. For other areas of the city, check out our guides on moving to South, East, and West London.
What did you think of this guide? Is there anything that you would have added? We love hearing from you, so feel free to leave a message in the comments below.